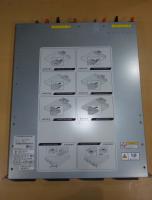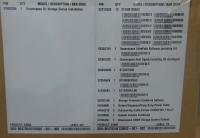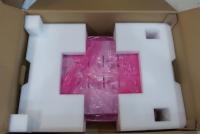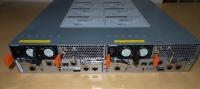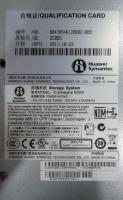 Product Specification
| | |
| --- | --- |
| Condition | Still in original packaging |
| Warranty | 3 Months |
---
Product Descriptions
10 UNIT in stock
S2600 Controller Enclosure STEM09SPEAC
2TB 64 Cach 7.2K RPM SATA Disk Unit STEM012000G x (12 pcs) + License + Software.
HuaweiSymantec Oceanspace S2600
Introduction
It's not the first time we publish NAS reviews of ASUS, NETGEAR and Thecus, both their desk and rack-mounted versions, made for home users or small to mid-sized companies. These brands are acknowledged leaders in producing networking equipment and their brand history extends back over years and years. However, today we'd like to tell our readers about OceanSpace S2600 SAN by HuaweiSymantec, a brand new company established by the two largest manufacturers of software and hardware, Huawei and Symantec. Although S2600 is considered as an entry level SAN, the way it's made and documented goes beyond praise.
External design
HuaweiSymantec Oceanspace S2600 is rack-mounted and has a size of 564x472x86 mm. Together with the SAN itself there is a wide array of accessories in the box: guide books, software, license agreements, cable ties and optical fiber bundling tapes, gloves, stickers, slide bars, captive nuts and bolts and a set of cables.
The device front panel has twelve disc bays and LEDs indicating the operability of the device and hard drives. It stands to mention that 0 to 3 discs are special (coffer ones), which means that even if the power supply of the device goes off, the power supply of the discs will be still on for saving all the necessary data like the device configuration, cache and so on.
The upper panel is quite unremarkable and there is only a sticker with mounting instructions on it.
Let's get on to the rear panel of the SAN. There are one or two control modules and two power plugs (one for each module) located there. There are a few versions of control modules which differ from each other in their data ports. In this case there were four Gigabit Ethernet ports for iSCSI connections. Moreover, there are network and console ports for out-of-band control of the SAN, the UPS jack, sunken reset button, sound on/off button, running lamps and a special extra disk enclosure mounting hole. All in all, the device can handle seven disk enclosures mounted.
Now let's learn a few things about the hardware capabilities of the device.
Hardware
An S2600 SAN has modular structure and can be fitted with two control and fan units, as well as with two power units; the main parts are doubled in order to secure complete fault-tolerance.
The fan unit looks more like a modern heavy-duty video adapter in a metal case with two fans.
The power supply unit model AD701M12-2M1 is made by VAPEL company and has the same size as the fan unit and two fans with a size of 40x40x28 mm on the outer side. The maximum output capacity is 700W, even though according to the vendor the device doesn't need more than 340W to function properly.
Now let's have a look at the insides of the control module which consists of several printed-wiring cards.
On the main STE1SCUA card there are two RAM slots, one of which has a PC2-5300E-555 RAMAXEL RML1531MH48D8F-667A module with the capacity 2 GBytes.
The majority of the card elements are located on one of its sides, and only the Cypress CY62167DV30LL RAM slot is an exception.
AMD Athlon 64 ADS3100IAR4DR in AM2 socket functions as the central processing unit. Four large chips are, unfortunately, covered with black fanless radiators. Also, there are twoSpansion S29AL016D70TFI01 flash memory modules on the card, each having 2 MBytes capacity, two Fast Ethernet Intel 82551QM controllers, one Lattice LCMXO2280C FPGA and an SMSC LPC47S457 I/O controller.
Samsung K9WAG08U1B flash memory module with 512 MBytes of memory capacity together with Cypress CY7C68023 controller are placed on a separate card.
Four copper gigabit iSCSI ports are placed on a separate STE1GEHA card powered by two Broadcom BCM5715CKPBG chips.