Simple and flexible pricing built for every team
Main
Features
Priority search ranking
Search results will be prioritized according to membership level.
For example: If all 3 types of suppliers (Elite, Platinum & Gold) cater to the same product being searched for by buyers, the search result ranking will display as follows:
1. Elite Supplier (Product, Name & Contact information)
2. Platinum Supplier (Product, Name & Contact information)
3. Gold Supplier (Product, Name & Contact information)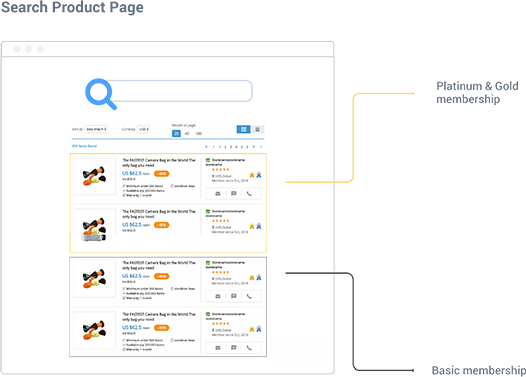 Monthly quoting limit
Product quoting is unique feature on Abraa.com where member-suppliers can find buying requests related to their industry and send customers their quotations directly. The customer will be given the choice of deciding whom they decide to give their business to, depending on the best quotation they receive.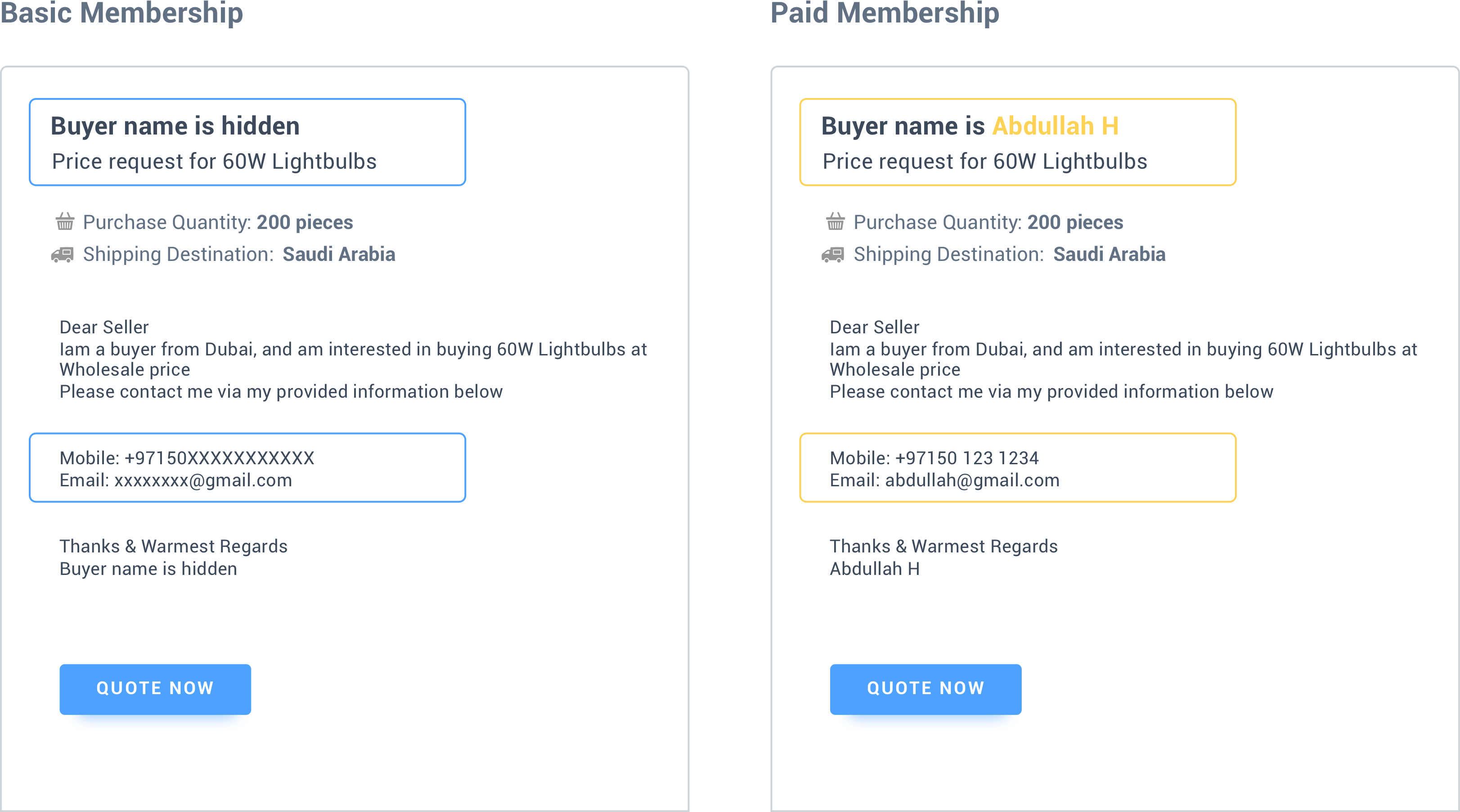 Business Card Exchange
Gold & Platinum Membership
Abraa would provide you with a trusted and verified seller badge* next to each of your products. All you have to do is provide us a copy of your business registration document. * subject to clearance from business registration authorities.
Store boosts
Premium members will have the option of selecting some of their products, to be boosted on all digital marketing platforms. 20% of the membership charge will be reinvested back into promoting suppliers products and their categories.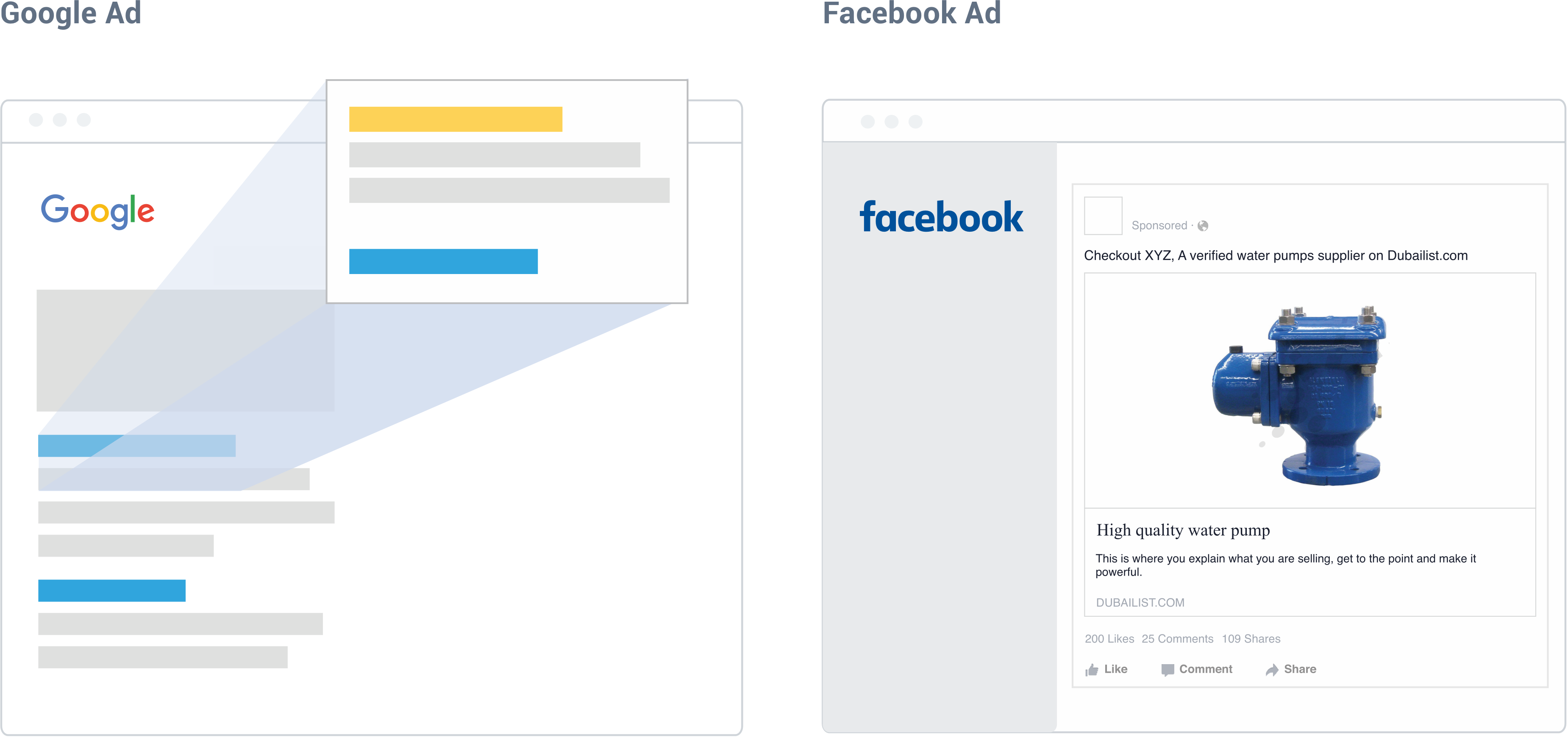 Store analytics
Members of abraa.com will have the luxury of a real-time store page analytics which will include total visitor count, new visitors, number of products listed, individual and total clicks on products, visits on store page, number of reviews and total contact count. This will give the members a true measure of how their store is performing on abraa.com as well as valuable insights for improvement.
Customized store page
- Paid Membership: Our design team will create a standard store page with your logo and 2 professionally designed rotating banner heads to reflect your own website. The page will also include all contact details such as tell number, email, address, and company website.
- Basic Membership: A standard store page is applicable however contact details will be concealed until upgraded.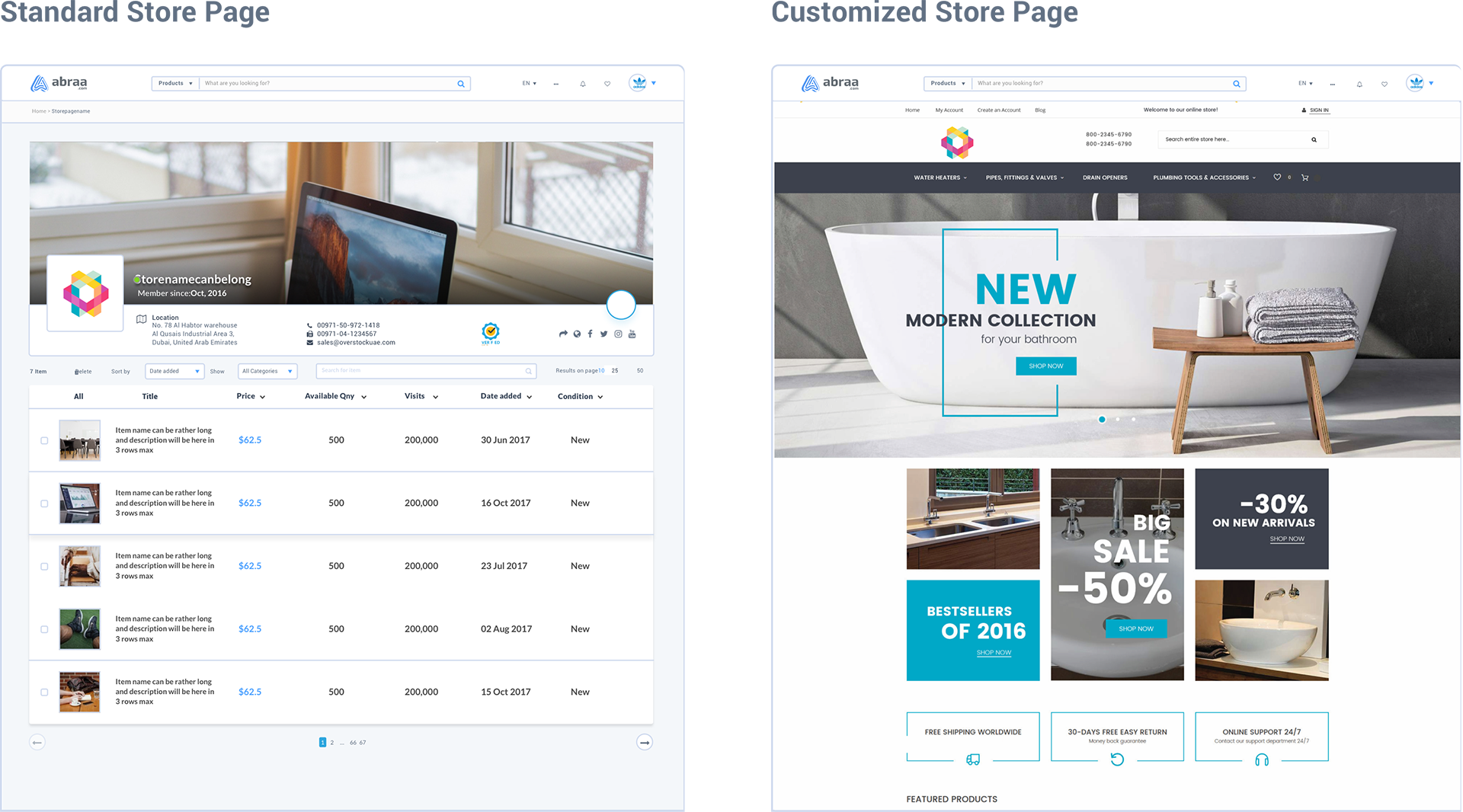 Basic
3rd
1/month
5
-
-
-
Silver
Limited offer
2nd
10/month
20
200 leads
Yes
-
Gold
Recommended
1st
40/month
80
1000 leads
Yes
Yes
FAQs
Why abraa?
Suppliers: Abraa.com is a prominent B2B marketplace with high footfall, where suppliers can view live buying requests from across the globe to send in their best quotations. We at abraa.com find you leads, saving you both time and money, from having to look for business outside.
Users: Imagine utilizing a marketplace where you can request your orders and have a list of options to pick from. With Abraa.com, it's now a reality!
What sets abraa apart?
- We cater to a global market; nonetheless we have very close ties with suppliers and buyers from within the Middle Eastern and African markets.
- Abraa.com has a special process that filters out all inbound buying requests. Only genuine and verified requests are sent out to the relevant suppliers within that category.
- Streamlined categorization methods are used to aid easy navigation through the website.
- Real time tracking system (for supplier invoices, order tracking and delivery tracking).
Why should I upgrade my membership?
Upgrading your membership status from a basic comes with additional benefits.Such as:
- Access to a higher number of buying requests.
- Product & promotional boosting on all social media for greater awareness. - Priority search ranking.
- Access to buyer details.
- Verified seller badge to reassure buyers that your company, its products and services can be trusted.
- Customized store page to help stand out amongst competition as well as build a lasting familiarity with your brand.
Can I upgrade plans during my membership term?
Yes. Members can always upgrade plans at any point without signing up for a new 12 month contract (The changes will take place at the beginning of the following month and the difference in price will be invoiced on a pro-rata basis).