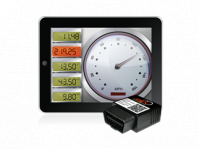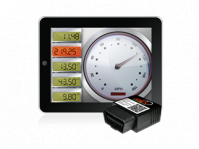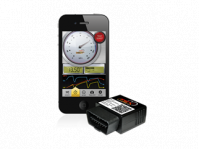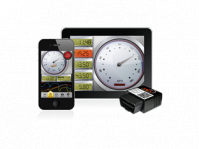 Product Specification
| | |
| --- | --- |
| Warranty | 1 Year |
| Compatible with | Other Makes |
---
Product Descriptions
WHAT YOU CAN ADJUST
Adjustable Options vary for each vehicle and are not available on all vehicles
Axle Ratio
Correct the vehicle speedometer (and fuel efficiency calculations) if you have changed the gear ratio on your vehicle. If no gear ration modifications have been made to the vehicle, then choose the stock setting when the tuner prompts you to choose a gear ratio. This will ensure that no modifications are made to the stock program.
Fan Control
Lowers the Temperature at which the Fan turns on.
Idle Adjust
Enable and select a value for Engine Idle position. This is a great feature for keeping voltage in the vehicle up while running auxiliary electronics off of the vehicle's power system.
Fuel Injectors
Allows you to adjust for different sized fuel injectors.
Intake Airbox
Allows an aftermarket intake to be run on the vehicle without a Check Engine Light. For Intake Kits that require tuning, this will provide a selection of available intake kits.
Lock in 1-2-3
Locks the converter in 1st, 2nd and 3rd. Aids in engine breaking, increases fuel economy, and can be used for drag racing as well.
Mass Air Meter (MAF)
Allows you to select from different aftermarket MAF (Mass Air Meters).
RPM Based Spark
Allows you to Add or Remove Timing by RPM Range. (0-2000)(2000-4000)(4000-8000)
Rev Limiter
Regulate the highest RPM that an engine can reach before the engine is electronically limited. Increasing the RPM limit is recommended only for racing purposes. Once of the most important ways to protect your engine from damage is to keep the RPMs from going too high.
Speed Limiter
Change the top speed that the car will reach before the engine automatically limits the power needed to go faster.
Tire Size
Correct the speedometer if you have changed your tire size from stock.
Traction Control
Allows you to disable the vehicles Traction Control without using the button in the vehicle.
Transmission Shift Points
Change the RPMs at which an automatic transmission will change gears.